There are plenty of things to do in Seoul. Seoul is one of the biggest cities in the world and if you are exploring the city you will always find things to do in Seoul. Seoul city has a long and interesting history but what many people notice when they arrive in Seoul is how modern the city is. Over the last 100 years, Seoul has been destroyed and rebuilt numerous times which gives Seoul today it's modern style but with traditional values.
Things to do in Seoul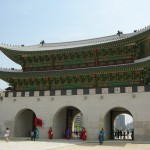 Five Palaces. One of the first places tourists visit in Seoul are the Five Palaces. The palaces were built during the Joseon Dynasty (1392-1910) and housed Kings, Queens, members of the royal family and servants. All of the palaces are located in the city centre of Seoul and are within walking distance of each other. The palaces are very well maintained and have daily events such as the changing of the guards and other attractions for tourists. The five palaces in order of popularity are Gyeongbokgung Palace, Deoksugung Palace, Changdeokgung Palace, Changgyeong Palace and Gyeonghuigung Palace. Outside the palaces at the admission box you can buy a special ticket for 10,000 won which gives you entrance to all the palaces and Jongmyo Shrine. Admission to Gyeonghuigung Palace is free.
Cheonggyecheon Stream. The Cheonggyecheon stream or river is located in downtown Seoul and is over 8km long. The stream has undergone major renovations in the past few years and is now a popular attraction amongst locals and tourists. Cheonggyecheon stream begins at Cheonggye Plaza, near City Hall and Deoksugung Palace. The stream then heads eastwards through Dongdaemun and then joins the Hangang River. Cheonggyecheon stream is very nice to walk along and there are many things to do on either side of the banks. At night there is a laser show. At other times throughout the year there are events and festivals held at Cheonggye Plaza and along the river such as the Seoul Lantern Festival.
 Shopping and Markets in Seoul. In Seoul there are a lot of shopping areas and shopping centres. For the latest cosmetics and clothes many people head to Myeongdong. This area is full of street vendors and shops selling cosmetics and cool clothes. The area is very popular amongst foreigners especially the Japanese. In Myeongdong you will find high quality clothes at reasonable prices. If you are looking for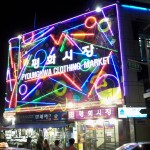 fakes or cheap clothes you should definitely visit Dongdaemun Market or Namdaemun Market. Dongdaemun Market is open 24 hours. Many tourists like to visit the market late at night so you can see all the local vendors buying clothes for their shops or to try some of the food from the night vendors. Teenagers and young women visit Ewha Fashion Street for the latest styles and fashions. In this area Ewha Womans University, Yonsei University and Sogang University are located here making it an ideal location for inexpensive shoes and cheap clothing. Visit our market page for information about more markets such as food markets, clothes markets and things to do in Seoul.
Museums in Seoul. Visiting museums is a fun thing to do in Seoul. In Seoul alone there are over 50 museums exhibiting many things from food, culture to clothing. We have visited and wrote about over half of them at out Seoul Museum Page. The most popular museum in Seoul is the National Museum of Korea. The museum covers everything from ancient to modern Korea. The museum is free to all. Another popular museum in Seoul is the Korean War Memorial. The museum covers all the wars that Korea have taken place on the Korean peninsula and the Korean Army's role in the world. The best part are the planes, tanks and vehicles outside the museum. If you are a fan of football, a trip to Seoul would not be complete unless you visit the World Cup Stadium and the museum that is located inside.
Drinking, Eating and Nightlife in Seoul. At night the streets of Seoul are lit up with restaurants and bars serving all kinds of food and drinks. You can find them near every station in Seoul but some of the most popular areas are Itaewon, Hongdae, Sinchon, Hyehwa and Gangnam.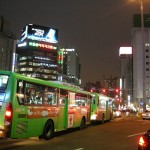 Itaewon is located near an American Military base and is now the central point for many foreigners living and visiting Seoul. You can find many western style bars and restaurants from all around the world including a lot of American, Turkish and middle eastern style food.
Hongdae is the centre of night life for young people who love to dance in Seoul. There are tons of clubs and bars in the area and a lot of the clubs have no entrance fees.
Sinchon is surrounded by universities so in the evening and weekends students like to head out to eat and drink. Since being a student area the prices are cheap and the streets are packed and loud at night. Bar Fly and Mike's Cabin are popular with Koreans and foreigners alike.
Hyehwa is similar to Sinchon in that it is located near to universities and the prices are cheap.
Gangnam is the more expensive side to Seoul. Here Ferrari's and designer labels are a common sight. The whole area is quite new and full of designer shops and high class restaurants, bars and clubs. The area mainly caters to the rich or business people but the area is definitely worth a visit and you can still find reasonably priced restaurants and bars.
Parks in Seoul. If you are fortunate to visit Seoul any other time then winter, you should visit some of the parks in Seoul. The parks in Seoul are almost competing against each other to see who has the best park. Each park has it's own unique attractions. In Seoul there are hundreds of parks. Visit our parks page to find out which park suits you best. The most popular parks are the 12 Hangang Parks, the World Cup Parks, Namsan Park and Tapgol Park.
On this page we only got to cover a fraction of the things to do in Seoul. For tons of more things to do in Seoul, visit our interesting things to do in Seoul Page. If this will be your first visit to Seoul, check out our Seoul Travel Guide. The page will tell you everything you need to know about Korea and guides such as the Seoul Train Guide and Taxi Guide etc. If you want to ask questions or need more information about things to do in Seoul, head over to our Forum.