St. Patrick's Day, Seoul. March 19th 2011.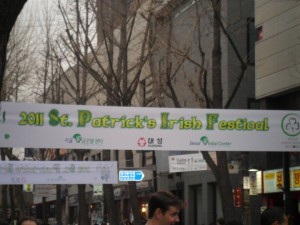 This year's St. Patrick's Day was held in Insadong.
The festival was quite enjoyable. They had face painting for everyone, balloons, food and music.
Here was the schedule for the day:
Schedule
11.30-11.45 Video showing Irish dance and sports performances
11.45-12.15 US 8th Army Musical Performance
12.15-12.30 Festival opens –
Introductory Speech by Irish Ambassador, Dr. Eamonn McKree
12.30-1.00 Traditional Irish Music by Banú (pronounced ban-ooh)
1.00-1.15 Irish folk dancing display
1.15-1.45 Irish folk dancing – participation by the audience
1.45-2.00 Intermission performance
2.00-2.30 Deafening Street – U2 covers band
2.30-2.45 Intermission performance
2.45-3.15 Traditional Irish music by Bard
3.15-3.30 Irish folk dancing display
3.30-3.45 Irish folk dancing – participation by the audience
3.45-4.15 Fotla – Irish rock-music group
4.15-4.30 Intermission performance
4.30-5.00 Finale – all musicians gather on stage and people dancing
5.00 End.
Nice schedule but in reality it was a few thousand people getting drunk and having the craic. It was like a sea of green and beer.
No beer was sold at the festival so you better bring your own for next year.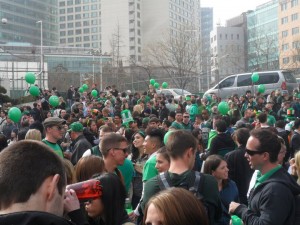 The nearby stores had beer but that didn't last for long. By 3pm no store near the festival had any beer left. I guess nobody told them about St. Patrick's Day.
It took me 30 minutes to track down a store with any beer left.
Everyone out in green and having fun. People were very friendly and exchanging banter at any chance they could get.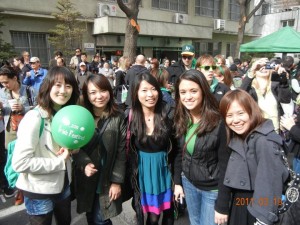 Floating cans of beer were a common sight at the festival.
If you are interested in any more festival or events related to Ireland check out this site http://www.iak.co.kr/index.php The Irish Association of Korea.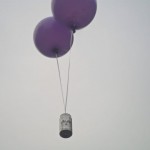 See you next year.