Seoul is a big city and having a Seoul Map is definitely recommended for new comers to Seoul. The map of Seoul is quite big so viewing our Seoul map below on a portable device is best. Seoul is divided up into 25 districts (Gu) and split in 2 main areas, north of the Hangang River and South of the Hangang River. Each district is Seoul is quite unique and offer different activities, culture and history.
If this is you first time to visit Seoul, check out things to do in Seoul. The most popular places for tourists to visit in Seoul are the Five Palaces, Insadong, Sinchon and Hongdae for drinking and clubbing, Dongdaemun for shopping and Seoul Tower. For getting around Seoul it is quite difficult as there aren't many Seoul maps in English and even Google maps have little English. We hope the map below will help you give you a better sense of direction when travelling in Seoul. We have documented hundreds of places to visit in Seoul and each article we produce comes with a map. Check out a few of the places we have written about in Seoul with maps.
Seoul Map
You can also view a Seoul Map online at Map or download a Seoul tourist pdf Map.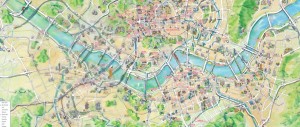 If you have any have any question about getting around Seoul or need help with your Seoul Map, head over to our forum and leave us a post.