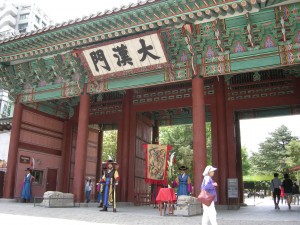 We often get emails at exploringkorea.com about places to visit in Seoul. There are thousands of places to visit in Seoul and it really depends on what your interests are and how long you will be staying here for. Some of the most popular places to visit are places like the Five Royal Palaces. The Five Royal Palaces are Gyeongbokgung Palace, Changdeokgung Palace, Deoksugung Palace, Changgyeong Palace and Gyeonghuigung Palace. The palaces are all from the Joseon Dynasty and are located within the city centre of Seoul. If you visit the palaces there are plenty of places to visit nearby. The statue of Admiral Yi Sun-sin and the King Sejong statue are located in front of Gyeongbokgung Palace. If the weather is nice the start of the Cheonggyecheon river is located about a minute walk from the two statues and there are so many things to see at the river.
If you are interested in the Korean war or the history of war in Korea there is only one place to visit, the Korean War Memorial Museum. The museum is huge and goes into great detail of all the wars in Korea dating back to thousands of years ago. Outside the museum there is a huge outdoor exhibit with real air crafts, tanks and rockets. You could easily spend half a day here looking around and to top it all off there is no entrance fee.
Another great place to visit in Seoul is the Namsangol Hanok Village. Entrance is free and you get to explore what an old Korean village would look like. They have lots of information about the different types of houses and you can even try on traditional Korean clothing. If you head to Namsangol Hanok Village on the right day you will see a Taekwondo display.
To be there honest a list about places to visit in Seoul would be huge so we have a few other pages you can check out depending on your mood. Things to do in Seoul
Hangang Parks Seoul
Museums
Fortress Seoul
Interesting Places
Royal Tombs
Parks
If you have any recommendations about places to visit in Seoul, head over to our forum and leave us a message.