The Formula One Grand Prix will be held in Korea on October the 14th – 16th, 2011. The F1 will be held at the Korean International Circuit in Yeongam, Jeollanam-do, South Korea. The Korean International Circuit track was completed in 2010 and designed by renowned German track designer Hermann Tilke. The track at Yeongam is 5.615 km with an amazing 1.2 km straight, the longest straight of any Asian Formula One circuit. There is seating for up to 130,000 spectators at this track and 200,000 people are expected over the 3 day event.
The 2011 Formula One World Championship Race consists of 19 races held in 18 countries around the world. The F1 Korea Grand Prix is the 16th round in the Championship. Unlike most other tracks around the world, the Korean International Circuit is a counter-clockwise track which adds additional  challenges and excitement to the race. The track which was only completed a year ago is a very modern facility.
This years Korean Grand Prix is quite special and well worth the trip for K-Pop fans. There will be a free concert on October 15th featuring Girls' Generation and Super Junior. The concert begins at 15:30 pm in the parking lot of the Korean International Circuit. On the 16th there will be a small rock festival and air show among other things. All of the programs are free for F1 ticket holders.
Korean F1 2011 Schedule Date and Time:
Friday 14th October
Formula One Practice 1: 10:00 – 11:30
Formula One Paddock Club Pit Lane Walk: 12:35 – 13:30
Formula One Practice 2: 14:00 – 15:30
Formula One Press Conference – Press Room: 16:00 – 17:00
CJ Hellovision Superrace First Practice Session: 16:00 – 16:30
Saturday 15th October
Formula One Pit Stop Practice: 09:00 – 09:40
Formula One Paddock Club Pit Lane Walk: 09:00 – 09:40
CJ Hellovision Superrace Second Practice Session: 09:45 – 10:15
Formula One Practice 3: 11:00 – 12:00
Formula One Paddock Club Pit Lane Walk: 12:05 – 13:30
CJ Hellovision Superrace Qualifying Session: 12:30 – 13:00
Formula One Qualifying: 14:00
Promoter Activity Autograph Session – F1 Drivers: 16:30 – 18:00
Sunday 16th October
Formula One Paddock Club Pit Lane Walk: 11:00 – 14:00
CJ Hellovision Superrace Race (10 Laps or 25 Mins): 12:00 – 12:30
Formula One Drivers Track Parade: 13:30
Formula One Starting Grid Presentation: 13:45 – 14:15
Formula One National Anthem: 14:46
Formula One Race: 15:00
Accommodation for the Korean Grand Prix:
If you wish to stay in Yeongam, Jeollanam-do for the Grand Prix, we recommend the official site for hotels for the Korean Grand Prix. http://f1lod.koreangp.kr/en/
Buy Tickets for the Korean Grand Prix 2011:
You can purchase tickets for this event from InterPark Tickets.
How to get to the Korean Grand Prix 2011:
View larger map
Korean International Circuit Layout: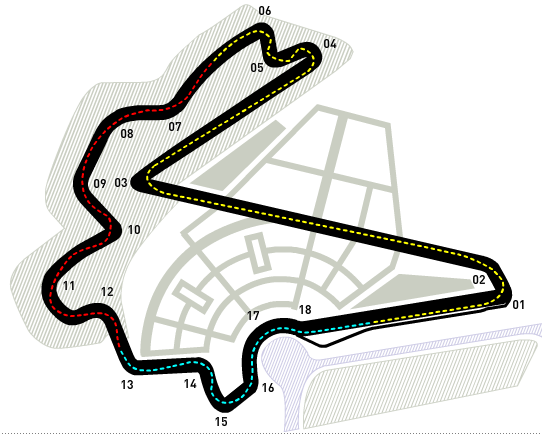 Video with information about Korean International Circuit
F1 Yeongam – Korean GP 2010 – The track explained by Mark Webber (Red Bull)
Footage from the Korean Grand Prix 2010. Looks like the weather will be good this year.
Formula 1 Grand Prix Korea season 2010- music video.mp4
If you have any questions about this event, leave a message on our FORUM.