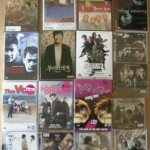 The best Korean movies was a difficult list to make. When it comes to what should be the best Korean movie everyone will have their own opinions which makes our best Korean movie list difficult to please all. We selected some of the highest Korean box offices hits, Korean movies that are still popular years after release and the best Korean movies voted by our readers. If you want to add a movie to our Best Korean Movie list head over to our Forum.
The list of Best Korean movies are not ranked in order of popularity.
Best Korean Movies
Best Korean Movie No. 1:
Old Boy
: Old Boy is probably the most popular Korean movie and is even listed on IMDB list of Best Korean movies ever and it is in the list of the top 250 movies of all time. Old Boy begins with a drunken man called Oh Dae-su who is in a police station for drunken public disorder. He is shortly released by the police officers after his friend collects him so he can make his way home to celebrate his daughter's birthday. He calls his daughter from a payphone to let her know he is on the way home but then disappears. Oh Dae-su then awakens to find himself imprisoned in what seems like a cheap rundown motel room. He is imprisoned in the room without ever knowing why. Everyday he seeks answers and plots his revenge. After 15 years he is released from the room and Oh Dae-su's quest for revenge begins.
Best Korean Movie No.2:

Tae Guk Gi – The Brotherhood of War
: Taegukgi is the Korean name for the movie which is also the name for the
Korean National Flag. Taegukgi is also another best Korean movie that often tops the list of Great Korean Movies. The movie is set in the 1950's during the Korean War. The movie stars one of the most popular Korean actors, Jang dong-Gun. Taegukgi follows two brothers who are both forced into the South Korean army to fight against the communist North Korean's on the front line. The elder brother, Jang Dong-Gun is told that if he earns the medal of honour for bravery, his brother would be allowed to return back to his family. Taegukgi is one of the best war movies ever made and will leave you in tears.
Best Korean Movie No.3


The Chaser
: The Chaser was a huge box office success in Korea and won many awards. The story is based on a
true story of a serial killer in Seoul who killed over 20 people and was sentenced to death in 2005. This movie will have you on the edge of your seat from start to finish. The story follows an ex-detective, Jung-ho who runs an illegal escort service. His girls go missing one by one under strange circumstances and he believes they have ran away or joined another agency. He soon discovers the shocking truth and tries to find the person responsible. The Chaser is a spectacular movie and the production, the directing and acting are all top class.
Best Korean Movie No. 4

J.S.A. – Joint Security Area
: JSA is set at the North Korean – South Korean border that is also called the Joint
Security Area. In this area North and South Korean soldiers are only meters away from each other protecting the border. The border is the largest security border in the world and tensions are high on both sides. Through all of this a complex friendship begins between two soldiers on the north side of the border and two soldiers on the south side with the best of intentions. Both countries are technically still at war but through all of this there is hope in the soldiers that someday Korea will be united as one.
Best Korean Movie No. 5
The Host
: The host was the highest grossing Korean movie of all time. The movie is set in Seoul along the
Hangang River. A group of American scientists working at the American Army base in Seoul dispose of their chemicals by pouring them down the drain which eventually finds its way into the Hangang River. The chemicals over time created a monster that goes on the rampage attacking people in Seoul. The movie follows one man whose daughter was taken by the monster and he stops at no length to get her back. This movie stars Song Kang-ho, a very popular Korean actor. Song Kang-ho also starred in JSA.
Best Korean Movie No. 6

Memories of Murder
: In 1986 in South Korea there were a series of murders of young women in a rural area.
The rural police officers used shady methods in an attempt to find out and reveal the identity of the killer after they found the first body. When another body was discovered a detective from the capital city, Seoul is sent to help with the investigation but the rural police officers become more crude in their investigation. Memories of Murder is an interesting crime investigation story that shows a rural town with incompetent police officers and a murderer on the loose. You can watch Memories of Movies numerous times and never get bored. This definitely deserves to be in the list of best Korean movies.
Best Korean Movie No. 7

Spring, Summer, Fall, Winter… and Spring
: This movie was released in 2003 and is about a monk who lives in a
temple on the middle of a mountain lake. Each season depicts a stage in the monks life.  In Spring he is a young boy full of innocence and youth. In Summer he is in his teenage years and full of love and rebellion. In Autumn he is a middle aged man with regret and repentance. Winter brings a new stage in the life cycle and with the following Spring the cycle begins again for the next monk. Spring, Summer, Fall, Winter… and Spring
is such a beautiful movie, an artistic movie with not much dialogue.
Best Korean Movie No. 8

My Sassy Girl
: This movie was such a big success in Korea that it was later remade by Hollywood. My Sassy Girl is
a romantic comedy but with a unique twist which makes it popular with many people. The story is about a young man, Gyun-Woo who meets a very drunk girl on the train who throws up on a older man and right before she passes out she calls Gyun-woo "Honey". He takes care of her and tries to get her home safely.  Throughout the rest of the movie hilarity ensues as Gyun-woo and the girl find themselves in hilarious bizarre situations. Voted one of the best Korean movies by our readers.
Best Korean Movie No. 9
Friend
: This movie is set in the 1970's in South Korea. The story follows the lives of four friends who are growing up in Busan City, a large harbour city in the south of Korea. All of the boys come from different backgrounds but attend the same school and become good friends. The movie is narrated throughout by two of the friends. We watch the four young boys grow into adulthood with two of them becoming respectable working members of society and the other two becoming lowlife gangsters with drug addictions. The movie depicts loyalty, friendship, jealousy, love, hate and a lot more from start to finish. The acting is excellent and this move stars Jang Dong-Gun who also stars in our Best Korean Movie No.2, Brotherhood.
Best Korean Movie No. 10
Silmido
: Silmido is a South Korean movie that was set in the late 60's/ early 70's. At this time South Korea was one of the less developed nations and still rebuilding after the Korean War. Silmido is based on a true story. After the Korean War a truce was never reached and the two countries were still at war. Kim Il-Song the leader of the communist North Korea was seen as a huge threat against South Korea. The south Korean government set up an elite killer unit to assassinate Kim Il-Song. The men of the elite unit were criminals who were sentenced to death. They were given a choice of been executed or joining this elite unit to redeem themselves and save their country. The training was extreme and some didn't survive but what is amazing is that most of them became capable and disciplined soldiers who wished to help their country for nothing in return.
What do you think should be added to our Best Korean Movie list? Head over to our Forum and tell us your best Korean Movie.
Best Korean Movies.