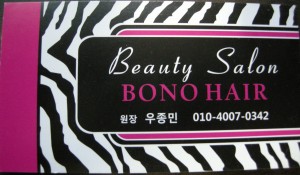 Not knowing a lot of the Korean language can be difficult at times. For example, trying to get a hair cut without speaking Korean is extremely difficult. In desperate need of a hair cut, I looked online for English-speaking barbers in Seoul that wouldn't cost an arm and a leg but to no avail.
I had pretty much given up on getting my hair cut until one day I was walking in Sinchon heading to the gym when this man came out of a Hair Salon and spoke to me in English. His name is Min Eujong (not sure how to write it 우종민) and he told me he is the owner of this new Hair Salon called BONO HAIR. I was delighted. He gave me his business card and told me a Wash and Cut for Men is only 10,000won.I followed him to his Salon and got my hair cut. I was very satisfied with my new hair style and Min Eujongs English. He had lived in Australia for one year and cut hair while there so he was very familiar with western hair and styles. He also cuts hair for females but I'm not sure about the price.
Anyway, if you need a haircut in the Sinchon area, this is the Hair Salon to go to.
Opening Hours:
Open seven days a week from 10am to 10pm.
How to get to the hair salon:
Leave Exit number 5 at Sinchon Station (Line 2 ) about 10 meters in front of the exit should be a right turn. Go down this street and take your first left. Bono Hair Salon is on the left.