Transportation to and from Incheon Airport. Incheon Airport is about 50 kms from downtown Seoul. Getting to Seoul city from Incheon is quite easy and many forms of transport are available. The Airport Express train which opened in December 2010 is the quickest, cheapest and easiest way to get to Seoul Station. If you are staying in another part of Seoul the bus may be a better option.
1. A'REX Airport express train: A'REX is the fastest and cheapest way to travel from Incheon airport to downtown Seoul. Commuter rapid trains run every 6 minutes and the total journey time from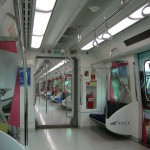 Seoul to Incheon is 53 minutes with 7 stops along the way. The Express train runs every 30 minutes and the total journey time is 43 minutes. There are no stops on the express train.
The station is located in Incheon Airport and the signs are clearly marked for the Subway. Be careful when entering the ticket gates as there are 2 ticket gates. One is for the Express Train with no stops. Get this if you are going to Seoul station. The second gate is for the express train that stops at 7 stations. For ticket prices, maps and more information view my Airport Express Train page.
2. Airport Bus: There are two bus types that leave from Incheon Airport. Most of them head to downtown Seoul and stop at all major hotels and are very convenient for first timers to Korea. The Deluxe Limousine Bus goes straight to major hotels. The seats are comfortable and you have some room to move around. The Standard Limousine Bus stops many times along the way giving you a better chance to get near to your accommodation. Naturally the standard bus takes longer.
The Deluxe Limousine Bus costs about 13,000 won to most areas of downtown Seoul. The Standard Limousine bus costs about 8,000 won to most areas of downtown Seoul.
To get the bus from Incheon Airport, head to the first floor and airport bus ticket booths are located between Gates 2 and 3, Gates 4 and 5, Gates 7 and 8, Gates 8 and 9, and Gates 12 and 13.
For a list of Routes and Bus schedules visit the official site.
3. Taxis are a convenient way to travel if you have a lot of bags or heavy luggage. With the opening of the Airport Train there has been a big decrease in the number of people who use taxis. However if your flight arrives after midnight there will be no trains or buses available and taxis will be your only option. When you leave the airport many people will approach you to use their taxi service. The price is reasonable and can be negotiated beforehand, however most of these people are unlicensed taxi drivers.  When you head out the exit of the first floor you can find the official taxi ranks between gates 4 and 8.
There are a few types of taxis available. The standard taxi, deluxe taxi and the Jumbo deluxe taxi. The fare of the deluxe taxi is almost double that of the standard taxi. The reason for this is that Deluxe Taxi Drivers have been trained in special customer care and need to have 10 years accident free experience driving a standard taxi. The Jumbo Deluxe Taxi is good if you have many bags or a group of over 4 people travelling together.
The price from Incheon Airport to downtown Seoul can be anywhere from 60,000 – 100,000 won. The toll fee which is under 10,000 won must be paid by the passengers.