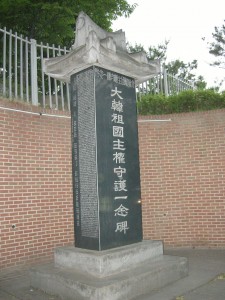 This monument was erected in memory of over 4,300 elite Korean students of colleges and universities in Korea and Japan who were coercively inducted into the Imperial Japanese Army under the name Special Student Volunteers toward the end of World War 2.
Most of the them refused to comply and deserted the Japanese Imperial Army. Some were caught, imprisoned or executed and others were wounded, killed or went missing in action.
This monument has the names of 2,700 of those whose life or death struggle against the war has been confirmed. The monument stands in front of Tong Sung High school. It was here that the forced inductees underwent military training just before they were driven to the battlefield. This monument is a reminder of the struggle against the Japanese and a hope that history will no be repeated.
How to get the Il Nyum Bi Monument:
Leave exit number 1 at Hyehwa station on Line number 4. Head straight for 2 minutes and the monument will be on your right.
View larger map