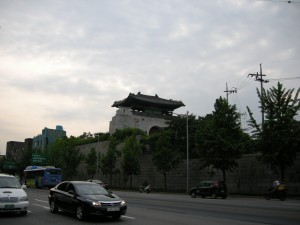 One of the four small gates in the historic fortress walls of Seoul. Hyehwamun was built in 1396 in the northeastern part of the walled capital. Its original name was Honghwamun but this had to be changed to the current name in 1511 because the same name was used for the east entrance of Changgyeongung palace. It has also been known as Small East Gate (Dongdaemun). Its gatehouse was built in 1744 and was demolished in 1928, due to damage caused by old age leaving the arched entrance. The gate structure was destroyed entirely during the Japanese Colonial Period to allow for the construction of tram tracks. It was restored in 1992. The current gate is slightly further north from the original site due to road building.
How to get Hyehwamun Gate:
Take line 4 to Hyehwa station and leave exit 1. Keep heading straight and follow the bend in the road to the right and follow the road for about 2 minutes. You will see Hyehwamun on your left.
View larger map