Goshiwon, Hasuk jip and one rooms / officetels are very similar types of accommodation in Korea. I will start off by explaining Goshiwon.
Goshiwon:
Goshiwon (고시원) is usually a very small room rented monthly by students or workers. Goshiwon is very similar to dormitory lifestyle. Everybody has there own room and the bathroom and kitchen are shared. The room is very basic and small. Usually included in the room is wireless Internet, a TV, a bed and a desk. Goshiwons can be found on the Internet, links below but all in Korean. Goshiwons are usually in the city centre or located near universities and train stations. They are usually on the 4th or 5th floor of a building and the 1st few floors are usually businesses of some type or apartments. Goshiwons can be loud if they are located in a party area or beside a bar, restaurant or phone shop. The price rage is anywhere from 200,000 ~ 600,000 won which might include a private toilet or shower if you're lucky. Usually Goshiwons are clean however there is a reason why some of the rooms are so cheap. Nearly every Goshiwon has a kitchen with basic appliances and free rice, kimchi and seaweed. If you are fortunate you might get some free noodles as well.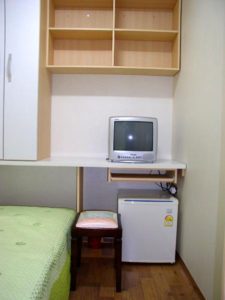 Hasuk Jip:
Hasuk Jip (하숙집) is very similar to Goshiwon. The rooms are private and small but the kitchen and bathroom are shared. The main difference between Goshiwon and a Hasuk Jip is that with the Hasuk Jip you are provided with two meals a day. Usually the Ajumma (Korean Lady) lives in the same building or nearby and cooks two meals a day usually breakfast and dinner. Some places even do your laundry for you. Hasuk Jips can be found on the Internet however the best way to find them is to go out and look for the HASUK JIP sign (하숙집). You can find it in student area like Sinchon and Hyehwa. Most of the Hasuk Jips are run by elderly ladies who don't have any websites or advertise at all which makes them cheaper than the rest but you have to search to find them.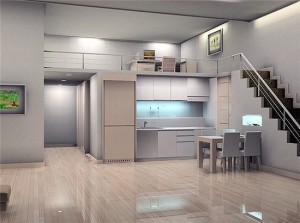 One Room / OfficeTel:
An officetel (오피스텔) or one room in Korea is a single room apartment with a toilet / shower and kitchen. The rent is quite reasonable ranging from 300,000 – 600,000 per month but there is a huge deposit and real estate agent's fees to be paid. The one room /  officetel is great if you plan to stay for a long time in Korea. Most people don't have money for a deposit or are only studying for a semester in a different city. In this case the Hasuk Jip or goshiwon are a better match.
For an officetel or one room in Korea the deposit is can be anywhere from 1,000,000 won up to 10,000,000 won. You will always get the deposit back when you leave if you have kept the place in reasonable condition. If not, the damage will be deducted from your deposit. With officetels and one rooms you will usually have to pay a monthly management fee , water, gas and electricity bills.
Links to Goshiwon websites.
http://www.goshipages.com/ – Search for accommodation in Korea in English, Japanese, Chinese and Korean.
All websites below are in Korean.
http://www.gosi1.net/
http://www.gosione.net/
http://www.gosiwon4u.net/
Link to Officetel website:
http://www.officetel114.co.kr/article/index.asp?kind=oneroom
If you have any questions please leave a comment below: