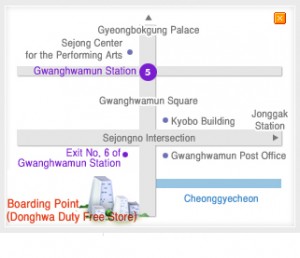 This year (2011) VisitKorea announced a free shuttle bus between Seoul and Busan. The free shuttle bus is open to people with a foreign passport, tourists and foreign residents working in Korea. There are 3 bus routes available.
1.Bus service- Seoul to Busan
The departure point leaving Seoul is Donghwa Duty Free Store. To get there take line 5 to Gwanghwamun Station and leave exit 6.The deaparture time is
Seoul Departure 08:00
# Busan Arrival
# [Lotte Hotel (Seomyeon) 14:00] # [Paradise Hotel (Haeundae) 14:30]
Travel time is about 6 hours and the bus can accommodate up to 25 people. This map below shows the route on which the bus takes when leaving Seoul.
The bus runs everyday except Mondays. This is a 1 year promotion by VisitKorea. This service ends December 31st, 2011. The main purpose of this service is to introduce Korea to tourists. Booking one way tickets is limited.
If departing or returning from Busan there are two pickup locations.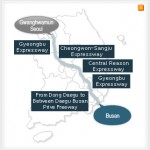 # Busan Departure
# [Paradise Hotel (Haeundae) 16:00] # [Lotte Hotel (Seomyeon) 16:40] # Seoul Arrival 22:30
For more information and to book your tickets visit VISITKOREA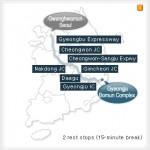 2. Bus Service- Seoul to Gyeongju
Travel time is about 5 hours. The departure point is the same as above. Donghwa Duty Free Store. To get there take line 5 to Gwanghwamun Station and leave exit 6. Departure time is # Seoul Departure 08:00 – # Gyeongju Arrival 13:00
Arrival point is Gyeongju Bomun Complex (located beside Hyundai Hotel – Hilton Hotel – Concord Hotel / Commodore Hotel)
departure point is Gyeongju Bomun Complex and departure time is 16:00 – Seoul Arrival 21:00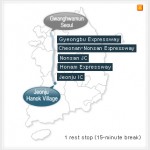 3. Bus Service – Seoul to Jeonju
Travel time is about 3 hours. The departure point again is Donghwa Duty Free Store. To get there take line 5 to Gwanghwamun Station and leave exit 6. Departure time is# Seoul Departure 08:00 – # Jeonju Arrival 11:00
Arrival point is Hanok Village Public Parking Lot.
Departure point is Hanok Village Public Parking Lot and departure time is # Jeonju Departure 17:00 – # Seoul Arrival 20:00
Let me know how you got on. Leave a comment