The Seoul Fortress wall built 1397 as protection from invaders and show the boundaries of the city. The wall stretches 18.2km but most of it has been destroyed over the years during the Japanese invasion and Korean War. The government is currently trying to restore most of the wall.
We started our journey at Bugaksan Mountain Fortress Wall Area.  Bugaksan Mountain is very close to the Blue House (Cheongwadae), the official residence of the President of the Republic of Korea. This area has been closed to the public since the assassination attempt on the President's life in 1968 by the North Koreans.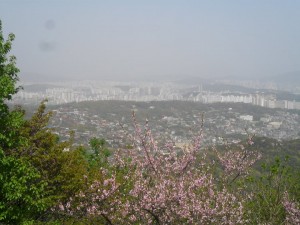 However, since April 5th, 2007 the whole area has been opened to the general public.  The Bugaksan Mountain is still heavily fortified and guarded. Along your trail you will notice a lot of barbed wire fences, sensors and a small viewing outpost for soldiers every 100 metres. If you would like to visit this area you will need your Passport or Certificate of Alien Registration. After you have cleared the security check you will be issued with an I.D badge.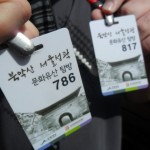 Opening hours: 09:00 to 15:00 (April to October) and 10:00 to 15:00 (November to March). Closed every Monday or Tuesday if Monday is a holiday. It took us 1 hour to walk to the top and back again. There are a lot of steep steps and it is recommended that you take a break every few minutes and bring plenty of water. After you enter the trail through the security check there are No water Fountains or toilets.
The course is very scenic. You have excellent views of the surrounding area and a lot of trees and flowers.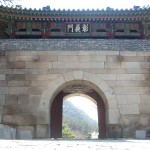 <<Changuimun Gate. To the right is the start of the trail and Security check.
How to get to Bugaksan Mountain Fotress Wall Seoul:
Take line 3 and get off Gyeonbokgung Station and go out exit 3. From there you can take the green bus #1020, #0212, #7022 or you can take a taxi which costs under 5,000won. When using the bus and taxi, the stop you are looking for is Changuimun – 창의문( Seoul Fortress Wall). In front of the stop you will see stairs leading to Changuimun gate and a big statue of a Police Officer.
View larger map
View
Bugaksan Mountain Fortress Wall
in a larger map