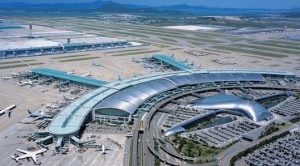 The main gateway for people arriving in South Korea is Incheon International Airport. To get to downtown Seoul or other destinations is made quite easy and English signposts are located throughout the airport. For information on the different types of transportation to and from Incheon International Airport, visit our Airport Transportation Page. Most of the hotels are located near subway stations and most buses leaving Incheon Airport stop at hotels. If you are just making a quick stop over at Incheon Airport visit this page to learn a little more about the airport.
If you are on a short holiday or business trip and need access to a cell phone, Incheon Airport has many shops that rent phones. To find out about rates and fees check out renting a phone in Korea.
Weather
Korea has four seasons and experiences harsh winters and hot, humid and rainy summers. The best time to visit Korea is in Spring or Autumn. It is recommended that you try to avoid visiting Korea in July as the rainy season is in full swing. It can sometimes rain for weeks and floods and landslides are possible as seen in July, 2011. Find out more information about the Weather.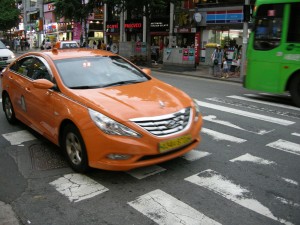 Transportation
Getting around Seoul or any other city in Korea at first can be daunting but once you get the hang of the transportation system, it can be enjoyable, quick, cheap and dependable. In Korea's six major cities, Busan, Daegu, Daejeon, Gwangju, Incheon and Seoul, a reliable subway system is available. Visit our page about riding the subway in Korea. For the above 6 cities and other cities there is an extensive bus system. The price is very inexpensive and you can get just about anywhere using the bus. Our bus guide is here. For those really hard to reach places or lazy days, the taxis will take you to your destination. Taxis are very reasonably priced and are great for those hot summer days, rainy days or cold winter days. A short ride anywhere in Seoul should cost under 10 dollars and if you are travelling with 4 people that is under 3 dollars per person.
Money
The currency in Korea is the called the South Korean won. For more information and pictures, click here. When travelling to Korea on holiday it is always recommended to bring some cash with you. There are many currency exchange banks at Incheon Airport and scattered around Seoul and other cities. Credit cards can be used in most places in Korea. Shops and restaurants have credit card machines and most tourists have no problem paying for things. For smaller shops, small restaurants, museums etc cash is needed. A lot of taxis will take credit cards. Look for the card symbol on top. To take money out at an ATM machine it must have a sign on top that says international cards, cirrus, visa etc. Use the ATMS located inside the banks. Before you leave for Seoul it is best to check with your bank to see if your card can be used to withdraw money in Korea. Cards with the Cirrus or Maestro logo will work in Korea.


Korean People
Having worked and travelled in Korea I have found the Korean people to be very friendly and helpful. Whenever I was lost or confused in a restaurant they were happy to help. Koreans are very proud of their culture and history and will jump at any chance to tell you facts or stories about Korea. When you meet Koreans for the first time they will ask you how old you are. Do not be offended. In Korea age and seniority play a very important role in how people interact with each other. There is a formal language and customs used when communicating with elders and juniors are expected to follow and obey their elders.
Voltage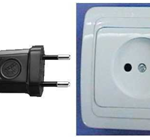 The voltage in Korea is 220 volts. The plug is a rounded 2 prong plug also know as the Euro-plug as it is used in many European countries. If you are bringing electrical equipment with you to Korea you much check to see if you need an adapter or a converter / transformer. Adapter: Most electronic devices today can handle different voltage power sources. Check the plug of your electronic item and if it says 110v – 240v or something similar you will only need an adapter.
Converter / Transformer: If you do not have this sign on your electronic device you will need a converter. A converter / transformer is a small box which converts the electrical current to make it compatible with your device. If you use an adapter only and the 110v – 240v is not on your electronic device, your device will stop working.
Now that you have arrived and settled in, it's time to go out and Explore Korea. Why not visit some of the Royal Palaces in Seoul.